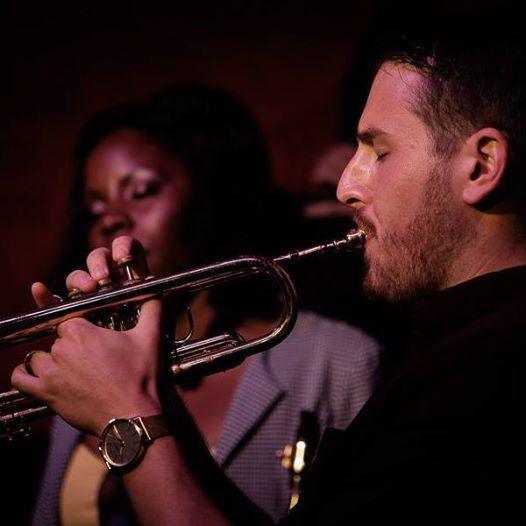 Trumpeter and Massachusetts native Aaron Janik has been steeped in the discipline of music since the age of ten. His earliest introduction to music is by way of revered New England trumpeter Jack Martin, whose expert tutelage molded Aaron into a well-rounded musician, fluent in all genres.
Aaron completed his undergraduate studies at Oberlin College of Arts & Sciences as well as the Conservatory of Music by way of the great Wendell Logan, graduating with a Jazz Trumpet Performance degree as well as a Biology (pre-medical) degree. From that time on, Aaron has studied with and been mentored by trumpet greats Sean Jones and the late Marcus Belgrave. He also received his Masters degree from USC Thornton School of Music, studying with Bob Mintzer, Peter Erskine, Alan Pasqua, Vince Mendoza, Mike Stever, and others.
Aaron now resides in Los Angeles, CA where he educates music students across the city and regularly performs and records with artists across the country, touring with chart-topping artists like R&B First Lady Faith Evans, Dwele, Micki Miller, and Kierra Sheard. In the past few years he has also performed or recorded with Earth, Wind, & Fire, Snoop Dogg, Chaka Kahn, Lil Kim, 112, Total, Charlie Wilson, The Yellowjackets, Patrice Rushen, Bone Thugs & Harmony, JJ Lin, Jessie J, Bebe Rexha, Robin Eubanks, Bob Mintzer, Tom Scott, Bill Holman, Johnnie Mandel, Les Nubians, Gino Vaneli, Carl Thomas, Mali Music, John Duff, Goldie, Lisa Page-Brooks, Eric Roberson, the Foreign Exchange, and legendary gospel quartet the Clark Sisters to name a few.
Aaron is also the co-founder of HornFX, an online community designed for wind instrumentalists and more to share information and experience in the world of pedal use. HornFX launched in January 2017, with a website database containing reviews of over two hundred effects pedals, artist pages highlighting some of the best pedal-using horn players in the world today, a community forum to share ideas and concepts, and so much more. HornFX has been writing a textbook and creating an educational curriculum, and the first HornFX curriculum debuted at the Berklee College of Music Summer five-week program to resounding success. Since then, HornFX has also been taught at the University of Utah, Brooklyn College, CalArts, the National Electrobrass Convention, the Texas Music Educators Convention (TMEA), and various high school and middle schools throughout the country. In just three years, the HornFX community has grown to over 68,000 users from 122 different countries. HornFX hopes to prove to pedal manufacturers that the market for wind instrument electronics is large enough to be a factor in today's electronic age. Check out the website, www.horn-fx.com, to become a part of the HornFX community.
Aaron is currently using a gold plated American Classic 3c trumpet mouthpiece, a 3BFL Flugelhorn mouthpiece, and a Denis Wick practice mute.