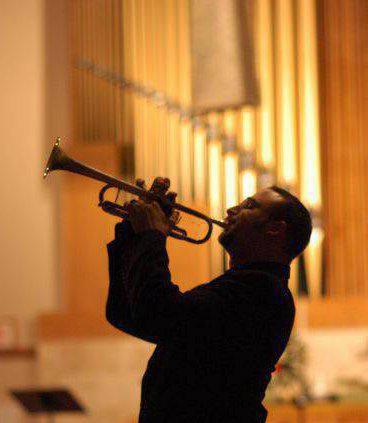 Chris O'Hara is an internationally renowned trumpet soloist, chamber musician, and educator. His playing is described as "virtuosic and impressive in every way" (Chicago Music Examiner), and "a treat beyond measure" (Arlington Advocate), and the International Trumpet Guild Journal hails him as a "true master of [the] instrument."
Already in his young career, Chris has performed over 3,000 events covering 47 states and 11 countries across North America, Europe, and Asia. His performance schedule has taken him to notable venues such as the Ravinia Music Festival, the Tanglewood Music Festival, the Bethlehem Musikfest, the Boston Early Music Festival, the Festival de Camara de Musica in Aquacalientes Mexico, the Nagoya Conservatory of Music, and Millennium Hall in Japan.
Chris performs regularly across the country and beyond as a soloist but his true passion has always been the art of chamber music. At the age of 16 in his home town of Bensenville, Illinois, he had already formed his first brass quintet; in 1995, he was honored by WGN television for his efforts with this ensemble. Then, at 17, he formed his second brass quintet, the internationally acclaimed Synergy Brass Quintet. As founder of the Synergy Brass Quintet, he has been a regular guest on NPR's The Front Row, performed with the Mormon Tabernacle Choir, The Boston Pops, and Natalie Cole, and has recorded several albums available on the AAR record label. Upon leaving the Synergy Brass Quintet after twelve years with that ensemble, he went on to form his current ensemble, the Alliance Brass Quintet. With Alliance Brass Quintet, Chris has been a regular contributor at the Chicago Brass Festival and regularly performs for the Ravinia Music Festival.
As an advocate for new music, Chris has commissioned several works including Robert Martin's Four Places in New York for two trumpets and Karl Henning's The Angel Who Bears a Flaming Sword for solo trumpet. During the 2010/11 concert season, Chris performed the World Premiere of Ballad for trumpet and wind ensemble by R. Christopher Teichler and the World Premiere of Fantasy No. 7: Dancing Embers for flugelhorn and wind ensemble by Robert Bradshaw at the 2011 International Trumpet Guild Conference. He can also be heard on the premiere recording of Samuel Adler's "Transfiguration: An Ecumenical Mass" on the album A Prophecy of Peace. In addition to performing, Chris is an avid arranger, having arranged and edited over three hundred works for brass quintet, brass and organ, trumpet ensemble, and solo trumpet.
Chris has served on the faculties of the Shenandoah Arts Academy (Winchester, VA), the Boston University Tanglewood Institute (Lenox, MA), The Festival de Musica de Camara (Aguascalientes, Mexico), the International Institute and Festival at Round Top (Round Top, TX), and the Brass Department Chairman of the South Shore Conservatory (Hingham, MA) where he founded the South Shore Conservatory Trumpet Workshop, a summer music seminar for talented New England trumpet students.