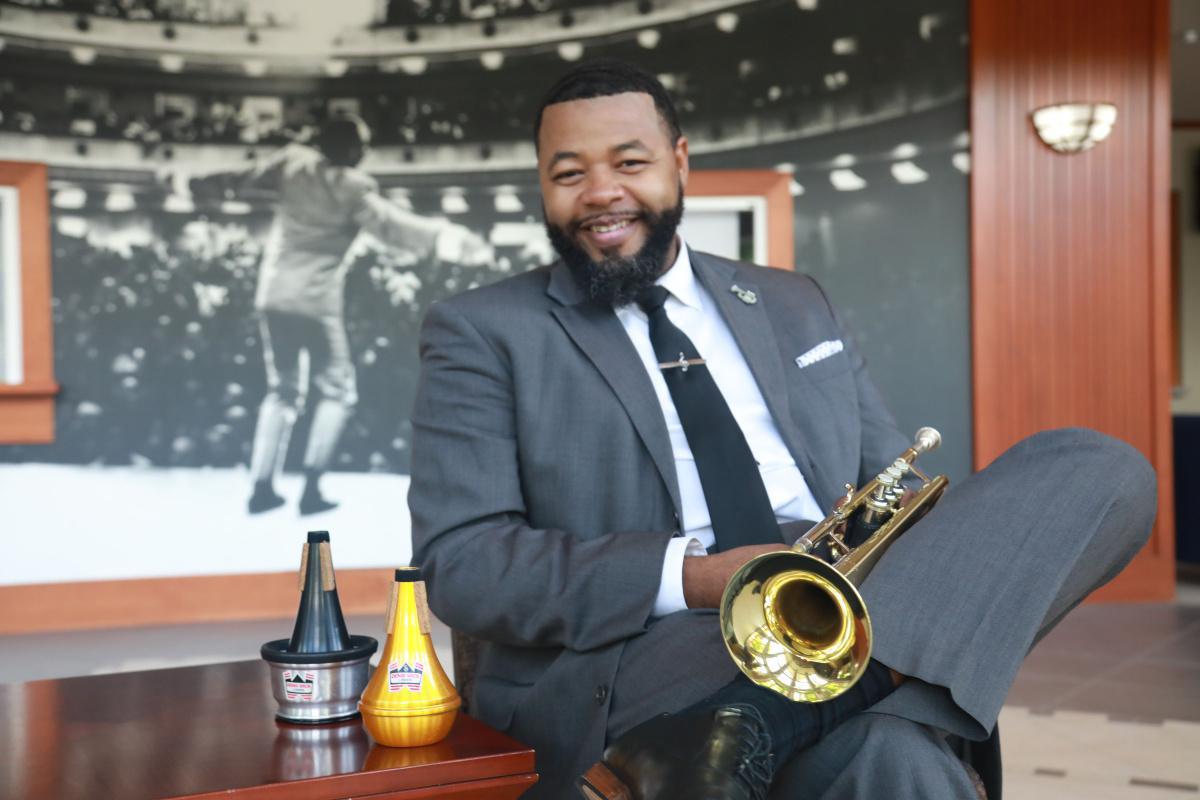 Melvin McCuin Jones possesses a stylistic philosophy, an almost hypnotic sound, and technical facility which constantly amazes audiences and peers alike. He seems to shine seamlessly in almost any musical setting. Whether he's playing lead trumpet, screaming on top of a professional horn section, performing serious classical repertoire, or stepping out in front of a jazz quartet and leading a jam session, this young man proves to be quite capable of capturing the attention of any audience.

Melvin first began his professional musical journey in 1998 while enrolled at Morehouse College when he made an appearance on TLC's triple platinum hit album "Fanmail." During that same year, Melvin along with two other "Men of Morehouse" (Kevin Johnson and Broderick Santiago) formed one of the most popular Latin Jazz Ensembles in the Southeastern American Region named Rio Negro. Earning a large amount of success and popularity, the ensemble recorded three albums under their own name, while continuously performing nationally before audiences that range from the hundreds to the thousands. Since the creation of that ensemble, this Memphis, Tennessee native has worked with a diverse range of musical icons in various settings such as Quincy Jones, Jon Faddis, Antonio Hart, Jennifer Lopez, Kirk Whalum, Ray Charles, Erykah Badu, Isaac Hayes, Marc Anthony, Stevie Wonder, Brian McKnight, Michael McDonald, Bill Cosby, Illinois Jacquet, George Bohannan, Clark Terry, and Omar, a British Pop sensation to name a few.

Melvin graduated from Morehouse College with honors in 2001, and then set his sights on higher educational goals. While pursuing a Master's Degree in Music at the Mason Gross School of the Arts in New Jersey, Jones received the potent and intensive instruction of the late, world-renowned educator and trumpet impresario, William "Prof" Fielder, whose student roster includes such prolific musical figures as Wynton Marsailis, Terence Blanchard, David Sanchez, and Kenny Garrett. After completing his graduate studies with top honors, Melvin immediately began instructing trumpet students privately and giving lectures at various universities and high schools while continuing to perform extensively across the country with various ensembles.

In the fall of 2004, Melvin slowed the pace of his performance career to serve as the Interim Director of Bands and Instrumental Studies for his alma mater Morehouse College, a prestigious Historically Black Institution located in Atlanta, Geogia. Having joined the faculty of this illustrious institution at the age of 24, "Mr. Jones" officially became the youngest Collegiate Band Director in the college's history (and the nation during that time). The Morehouse Band Program experienced such noticeable growth in all of its instrumental offerings under "Mr. Jones'" leadership, that his temporary appointment changed into a more permanent position at the enthusiastic request of the college administration and student body. During his six years of service, the Morehouse College Marching Band (dubbed the "House of Funk") re-established itself as a powerhouse amongst HBCU Band Programs, and the Jazz Ensemble's Spring Concert Series continued to flourish garnering the talents of such esteemed musicians as Don Braden, Sean Jones, Freddy Cole, and most recently award-winning composer and trumpet virtuoso, Terence Blanchard.

The beginning of 2010 signaled the beginning of a new chapter in Melvin's career, as he resigned from his position at Morehouse College to resume his performance endeavors full time. This refocus of his abilities was marked by the fantastic opportunity to tour with Tyler Perry's company on his latest production, "Madea's Big Happy Family" which ran through the Spring of 2011 before being released on DVD format and later retold in a movie version (in which Jones also appears). A consummate and erudite musician, Melvin hopes to one day join that particular delineation of artists that have played a vital part in the advancement of their respective art and the inspiration of the next generation of aspiring musicians.

In 2011, Melvin's long-delayed, solo debut released under the Turnaround Records label enjoyed top charting honors, some awards from broadcast stations around the country, and dozens of fantastic international reviews. Melvin also continues to uphold his rigorous performance calendar and occasionally presents lectures and clinics across the country. He appeared regularly in the horn section for the House Band of the Mo'Nique Show, The Penthouse Players, which aired weekly on B.E.T. As an educator, Mr. Jones held prominent membership in the GMEA, GAJE, AAJC, NANM, NCBD, and various community-centered educational initiatives. Melvin also sat on the Board of Directors for the Atlanta Jazz Society, as well as previously serving as a panelist for the Fulton County Council of the Arts. Melvin also serves as co-founder for the increasingly popular, pre-ensemble horn section named "Solid State," whose recent list of accolades include performances/ recordings with Arrested Development, The Anointed Pace Sisters, Tyler Perry Studios, T. Lynn Smith, The Pusscat Dolls, Fergie, Nicole Scherzinger, Missy Elliott, Polow da Don, Keri Hilson, Gladys Knight, John Legend, Byron Cage, PJ Morton, the "Original Dreamgirl" herself, Jennifer Holiday, R&B Soul legend Pattie Labelle, and the first lady of Soul herself, Aretha Franklin.

Currently, Melvin maintains a rigorous performance schedule while continuing to serve various institutions and academic organizations in different capacities. As an Artist in Residence for the "Mentoring Through the Arts" Program presented by the United Jazz Foundation and the U.S. Virgin Islands Department of Education, Jones teaches throughout the school year in the public school system as well as with the foundation's program participants. Also, Jones teaches in various adjunct positions. When not on stage performing or not in the classroom, he can be found in various studios and on movie sets happily using his musical talents. With a work ethic that does not rest until the job(s) are done, Jones spends the rest of his time either arranging, composing, or with his beautiful family. It's clear that this guy is doing exactly what he is supposed to be doing.

Jones is currently sponsored by Denis Wick Mouthpieces, Phaeton Trumpets and Fluglehorns, DaCarbo Trumpets, and Reunion Blues Cases and Gig Bags.