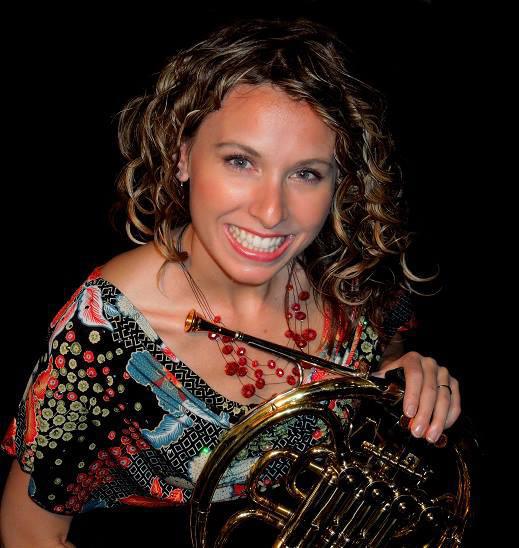 Kelly Langenberg is a thriving performer and teacher with an ever-growing list of accomplishments and performing opportunities. Recent appearances include the Chicago Brass Festival with the Uber Horn Quartet, the 45th International Horn Society Symposium with the Chicago Horn Consort, and the National Trumpet Competition, the Great American Brass Band Festival, and the International Trumpet Guild Conference with the Stiletto Brass Quintet, where her playing was reviewed as "ferociously powerful". Kelly has been featured as a soloist with the Waukegan Symphony, Muscatine Symphony and Clinton Symphony of Iowa, and the Mount Prospect Community Band. Kelly is currently principal horn of the Battle Creek Symphony, Dubuque Symphony, and the Light Opera Works Orchestra, and holds contracted positions with the Kenosha Symphony and Peoria Symphony.
Kelly is currently a member of the Alliance Brass Quintet, the Uber Horn Quartet, the Chicago Horn Consort, and the Kallima Wind Quintet. She frequently performs with the Chicago Philharmonic, ArsViva! Symphony, and Lake Forest Symphony. She has also performed with the Cleveland Orchestra through the Kent Blossom Music Festival, the Tower Brass of Chicago, and was a member of the Quad City Symphony for eight years. She has performed in the US with the Boston Brass and internationally with the Yucatan Symphony of Merida, Mexico. Kelly's continuing passion for orchestral music study has taken her to the Aspen Music Festival, the Pierre Monteux School for Conductors and Orchestral Musicians, and the Chautauqua Institute.
Kelly has performed live on Iowa Public Television, and can be seen performing on the internationally-released PBS Special Broadcast 'Ethan Bortnick,"The Power of Music". Recordings include the Stiletto Brass Quintet with Doc Severinsen (distributed on CD Baby), the Kallima Wind Quintet (Contemporary Record Society Label), and Music for Trumpet and Winds CD featuring John Hagstrom (Albany Records).
Ms. Langenberg earned a B.M.E. and B.M. from Baldwin-Wallace College Conservatory and a M.M. in Horn Performance from De Paul University in Chicago, Illinois. Her primary teachers include Neil Kimel, Jon Boen, and Hans Clebsch. Ms. Langenberg is the horn professor at Illinois Wesleyan University and North Park University. Kelly Langenberg is a Denis Wick Ambassador and Clinician.
Kelly lives in Chicago, Illinois, with her husband and twin daughters.