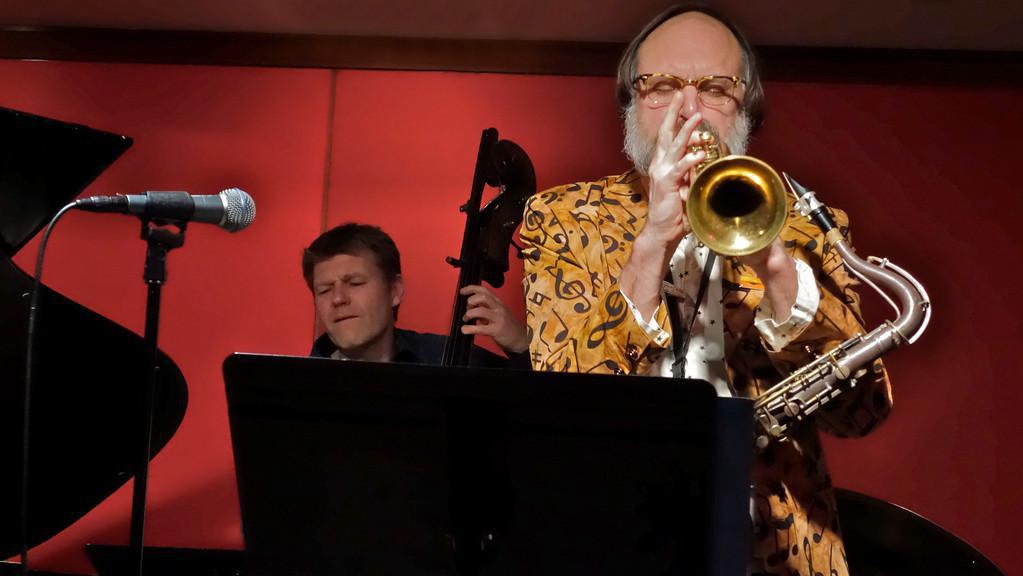 One of today's most wide-ranging instrumentalists, Scott Robinson has been heard on tenor sax with Buck Clayton's band, on trumpet with Lionel Hampton's quintet, on alto clarinet with Paquito D'Rivera's clarinet quartet, and on bass sax with the New York City Opera. On these and other instruments including theremin and ophicleide, he has been heard with a cross-section of jazz's greats representing nearly every imaginable style of the music, from Braff to Braxton. Scott has been heard numerous times on film, radio and television, and his discography now includes more than 200 recordings. His releases as a leader have garnered five-star reviews from Leonard Feather, Down Beat Magazine and other sources worldwide, and have appeared in many "Best of the Year" lists. Scott's collaborators on disc have included Frank Wess, Hank Jones, Joe Lovano, Ron Carter, and Bob Brookmeyer, and he has been a member of Maria Schneider's Orchestra for twenty years.

A busy traveller, Scott has performed in some forty nations, once completing tours on five continents in a three-month period. He has performed in such diverse and prestigious venues as Carnegie Hall, the Village Vanguard, the Library of Congress and the Vienna Opera House. His performances for dignitaries worldwide
have included a U.S. Presidential Inauguration and a command performance honoring the birthday of the king of Thailand. Scott's group was selected to be the closing act at the Knitting Factory's Sun Ra Festival in New York City. Scott has also written magazine articles and liner notes, and was an invited speaker at the Congressional Black Caucus Jazz Forum in Washington, D.C.
Scott has been a staunch advocate for creative music around the world. He was selected by the US State Department to be a Jazz Ambassador for 2001, completing an eight-week, eleven-country tour of West Africa performing his arrangements of the compositions of Louis Armstrong (later featured on his CD Jazz Ambassador). In 2012, Scott served as artist-in-residence at the week-long Ancona Summer Jazz Festival in Italy. He is currently serving each June as musical host of the annual Louis Armstrong Jazz Festival in Hungary.
Scott's many works as a composer cover a very wide range, from solo performance pieces, jazz tunes and songs, and chamber works such as his Immensities for Large Instruments, on up to large-scale compositions for wind band, symphony orchestra, and even combined orchestras.
The son of a piano teacher and a National Geographic writer/editor, Scott Robinson was born on April 27, 1959 in New Jersey, and grew up in an eighteenth century Virginia farmhouse. While in high school, he received the "Louis Armstrong Award," and the "Best Soloist Award" from the National Association of Jazz Educators. In 1981, he graduated from Boston's Berklee College of Music, and a year later became, at 22, Berklee's youngest faculty member.
Since moving to New York in 1984, Scott has been awarded four fellowships by the National Endowment for the Arts, and participated in a number of Grammy-nominated and Grammy-winning recordings. He has been profiled in new editions of the Encyclopedia of Jazz and Grove's Dictionary of Jazz, along with books by Royal Stokes, Nat Hentoff and others. In 1997, a 4-minute CNN program featured Scott and the giant contrabass saxophone which he used on his CD, Thinking Big. Scott has been the winner of a number Down Beat Critics Polls and Jazz Journalists Association awards in recent years.
Now a resident of Teaneck, NJ, Scott has constructed a studio/laboratory for sonic research, containing an astonishing assortment of instruments and devices. His first solo and collaborative recordings from this facility have begun to appear under his own ScienSonic Laboratories imprint. ScienSonic Laboratories, LLC has released some highly creative and far-reaching projects including Nucleus, Creative Music for 3 Bass Saxophones, and Live at Space Farms featuring longtime Sun Ra saxophonist Marshall Allen. In 2012, ScienSonic's recordings were certified by the Space Foundation as Certified Space Imagination Products, entitled to bear the Foundation's certification seal. Forthcoming projects from ScienSonic Laboratories include recordings with Frank Kimbrough, Emil Viklicky, Marshall Allen and Henry Grimes.

Under the Doc-Tone imprint, Scott recently released Bronze Nemesis, a CD featuring 12 compositions based on the exploits of 1930s pulp adventure hero Doc Savage. This project, ten years in the making, was greeted with extensive press coverage in the New York Times, Wall Street Journal, Down Beat and elsewhere. An endorsing artist for Vandoren reeds and mouthpieces since the mid-eighties, Scott has recently been signed to Denis Wick of London as an artist/endorser of their products for brass.

A respected performer in all areas of jazz, from traditional to avant-garde, Scott Robinson has arrived at his own unique musical voice which, as once described in a Northsea Jazz Festival program, "combines solid foundations with great daring".