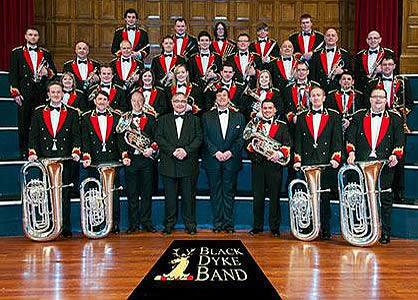 Black Dyke Band, formerly Black Dyke Mills Band, is one of the oldest and best-known brass bands in the world. The band has won many prizes and competitions over the years. In 2009, the band won the National Brass Band Championships of Great Britain for a record 22nd time.
It was formerly the band of the Black Dyke Mills in Queensbury, West Yorkshire, England, a company owned by John Foster. Foster, a French horn player, joined with others in a small brass and reed band in Queensbury in 1816. This band faltered, and another band formed – called the Queenshead Band – which consisted of 18 musicians around 1843. This second band also faltered, but in 1855, Foster and other musicians established the new mill band, and outfitted it with uniforms made from the mill's own cloth. Most of the musicians in the band also worked at the mill, and a close bond was fostered with the local community. The band has remained active since that time, and still rehearses in its original rooms.
Under the directorship of Dr. Nicholas Childs the band is widely recognized as one of the leading brass bands in the world, and has won many major competitions including four National Championships of Great Britain: 2001, 2004, 2008 and 2009 and the European Championship, 2005.
The Band has made over 350 recordings. Former Prime Minister Edward Heath was guest conductor on one, whilst Paul McCartney and Wings broke new ground with the Band with another. In 1996 they won The Music Industries Association Award for the Best CD in the orchestral category, with their recording of Sir William Walton's Music, featuring the Shakespearean actor Robert Portal.
In February 1999 the album that the Band recorded with Evelyn Glennie was nominated in the 'Crossover Classical Section' for a Grammy Award in Los Angeles, this was followed in March 1999 with an Oscar nomination for the best song in a film, "That'll Do" from the film "Babe 2" the vocalist was Peter Gabriel with backing by Black Dyke. The Band has enjoyed success with other recording artists including Tori Amos and The Beautiful South. Decades earlier they were chosen to appear on the Beatles hit record 'Yellow Submarine'.
Black Dyke Band also provide the background music written by Jim Parker for the popular UK Television series of programmes 'Ground Force' and in co-operation with BBC Worldwide have released their CD 'Ground Force' featuring the music from the series. In addition to touring and recording, the musical life of the band has included television shows, films, broadcasts, concerts at Music Festivals, Universities, The Proms, Fanfare into Europe, Songs of Praise for BBC, covering the whole musical spectrum, appearing with Lesley Garrett, Elton John, Evelyn Glennie, James Morrison, Phil Smith, Ian Bousfield, Hayley Westenra and many more.

MEDIA