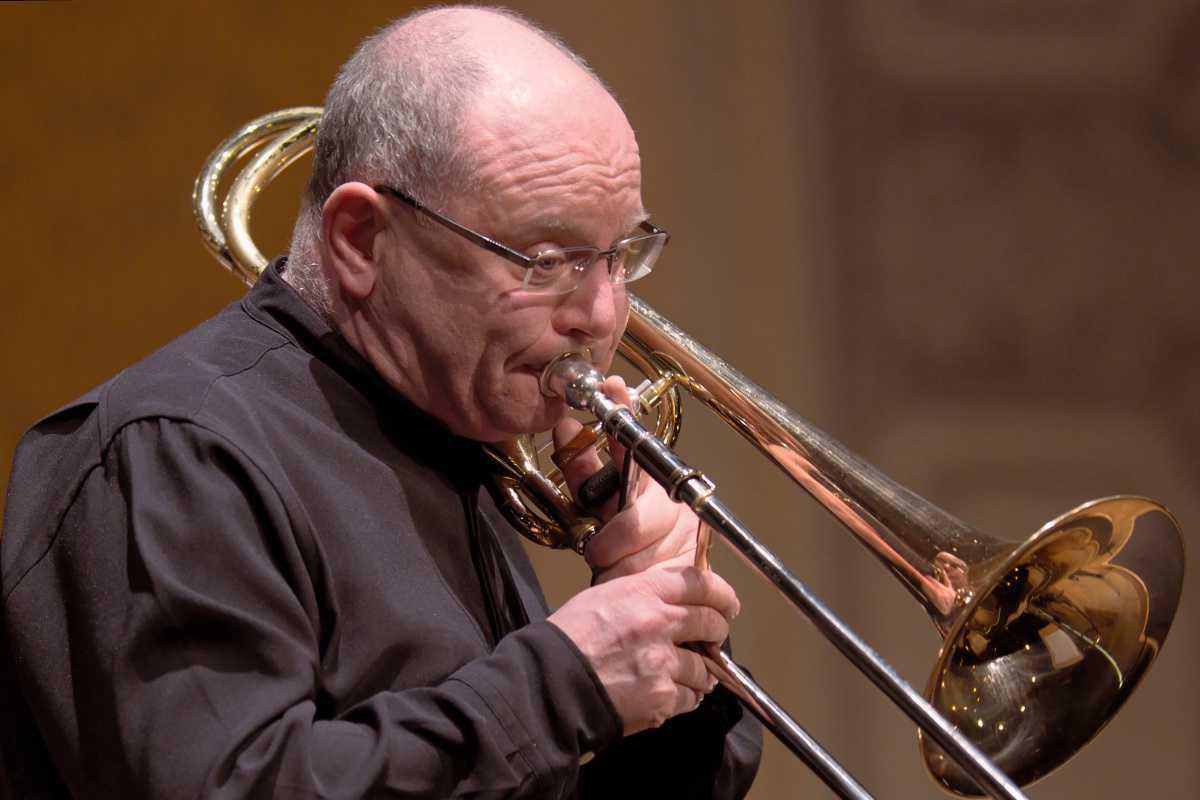 In 1980, age 20, Chris toured with the London Symphony Orchestra under Maestro Celibidache at the invitation of Denis Wick and was appointed Principal Trombone of the Orchestra of Opera North in the following year, a seat he held for twenty seven years. He has since appeared as Guest Principal with most major UK ensembles including the London Symphony, London Philharmonic, Philharmonia, Royal Philharmonic and London Brass and still plays regularly with the Mahler Chamber Orchestra, Royal Opera House Covent Garden, MusicFabrik, Scottish Chamber, Superbrass and the Symphonic Brass of London. A graduate of London's Guildhall School of Music, he studied with Denis Wick, Eric Crees and Peter Gane, and was awarded the Principal's Prize.
Currently Professor of Trombone and Brass Ensemble at the Folkwang University of Arts, Essen, Germany and Visiting Tutor at London's Guildhall School of Music & Drama, he has also served as Head of Brass at the Royal Birmingham Conservatoire, Senior Tutor in Brass and International Visiting Tutor at Manchester's Royal Northern College of Music and was voted 2014 Teacher of the Year by the British Trombone Society. He has trained the low brass with the Gustav Mahler Jungendorchester, European Union Youth Orchestra, Junge Deutsche Philharmonie and National Youth Orchestra of Great Britain and gives recitals and masterclasses throughout the world, including the Joseph Alessi Summer Seminar, Juilliard, Eastman, Boston, St Petersburg, Moscow, Porto, Cordoba, Oslo, Aarhus, Riga, Budapest, Bern, Lausanne, Ankara, Tokyo and Beijing. Chris has also given recitals and classes and has served as outside assessor at many UK Conservatoires and Universities.
In 2003 Chris represented the UK in the World Orchestra for Peace under Valery Gergiev and has made concerto appearances with the Netherlands Symphony Orchestra, Durham Sinfonia, Helix Ensemble, Collegium musicum Velbert and Orchestra of Opera North with whom he performed the Elgar Howarth Concerto under the composer on his 70th Birthday. Currently Chairman of the International Trombone Association Executive Board and a former President of the British Trombone Society, he has hosted the IPV Symposium 2010 in Essen and appeared as guest artist at International Trombone Festivals in Nashville, Aarhus, Birmingham, Las Vegas, IPV Symposiums in Detmold, Rostock, Aachen, Hannover and Stuttgart, Slide Factory Rotterdam, Adams and Lätzsch Festivals in the Netherlands and International Festivals in Washington DC and Sweden. His solo CD, Houlding his own is available on the SRC label while a second duet album entitled Houlding it together featuring Joseph Alessi, Brett Baker, Ben van Dijk, Carol Jarvis, Niels Ole Bo Johansen, Don Lucas, Ansgar Striepens and Jiggs Whigham is available to members on the ITA Website. A series of recently recorded solo performances can also be found on Chris' Youtube Channel.
Chris was awarded an MMus in Conducting by the Royal Northern College of Music in 2005 and held the position of Music Director with the Slaithwaite Philharmonic Orchestra for six years. He has also conducted the Bochumer Symphoniker, Duisburg Philharmoniker, Sinfonieorchester Wuppertal, Orchestra of Opera North, Royal Birmingham Conservatoire Pops Orchestra, Folkwang University Pops, Trinity College of Music Wind Orchestra & Brass Ensemble, RNCM Symphony Orchestra, Wind Orchestra and Brass Band, Lancashire Youth Symphony, Oslo Music Academy Brass Ensemble, Prinsen Musikkorps Brass Band, Denmark, Black Dyke Band, Grimethorpe Colliery Band and DUT Yorkshire Imperial with whom he won the National Brass Band First Section Championships in 2005. As adjudicator, he has served on international juries including the Internationaler Instrumentalwettbewerb Markneukirchen, First International Wind Competition Moscow, International Trombone Competitions in Budapest, Alsace and Detmold, Turkish Young Musician of the Year, Norwegian and British Brass Band Championships, Feis Ceoil Dublin and the Royal Overseas League Music Competition London. He is also a regular contributor to Brass Journals.