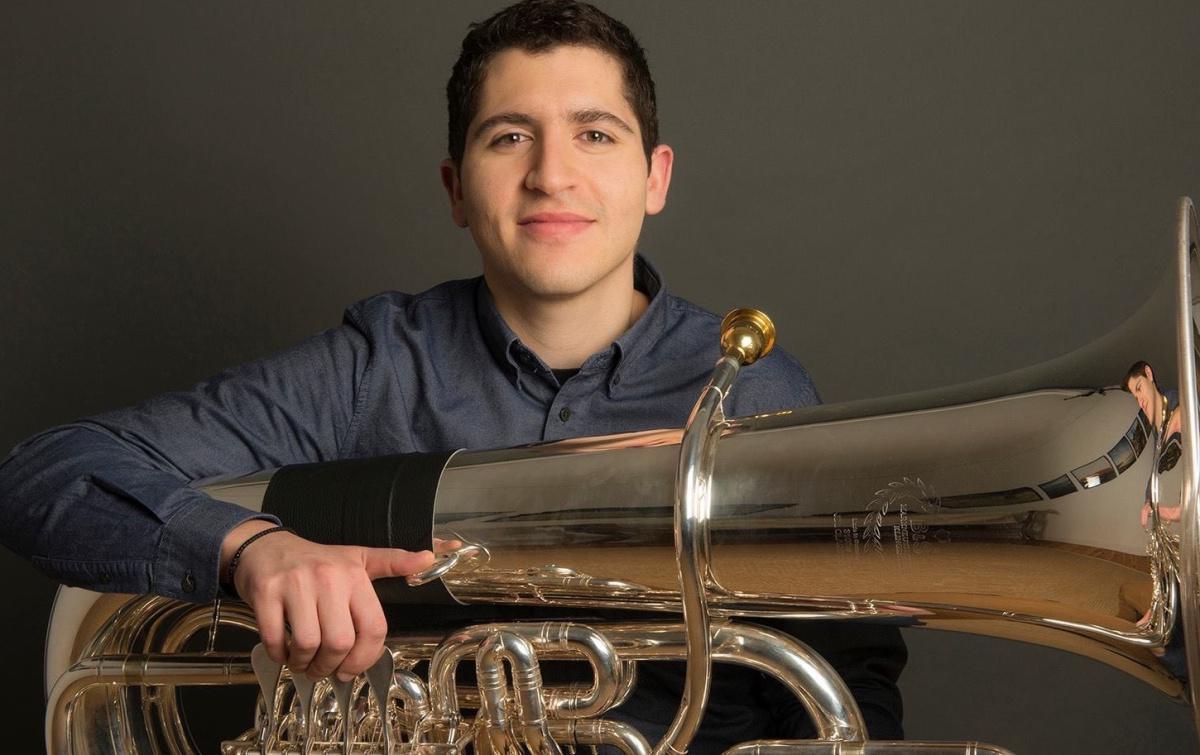 Vikentios Gionanidis is a Greek tuba player and arranger for brass. He was born in 1988 in Corfu, Greece. He began his musical studies in 1998 at the wind band "Manzaros", which included Theory, Percussion, Euphonium and finally the Tuba. In the year of 2004 he entered the Conservatory of Corfu to continue his higher musical education in tuba and harmony, following the classes of George Rarakos and Anastasios Kazianis. In October 2007 he started his studies at the Hochschule für Musik, Theater und Medien, Hannover (HMTMH) joining the famous tuba class of Jens Björn-Larsen. During the years there, he had the chance to participate in various chamber music ensembles and receive training and experience both as a tuba soloist as well as an orchestral performer. He got his diploma Degree on February 2013.

He won first prizes in two of the most prestigious competitions for brass instruments. At the International Aeolus Competition in Düsseldorf (2010), apart from the first prize, he also won the special prize for contemporary music and the audience award, competing against other brass instruments including the trumpet and the trombone. At the International Instrumental Competition in Markneukirchen (2012) Gionanidis won the first prize. He also won prizes at the National Music Academy Competition in Lübeck (2011) and the International Brass Competition in Gdansk (2012).

Vikentios Gionanidis has appeared as a soloist with the Folkwang Kammerorchester, Essen, the Orchestra of the Plauen-Zwickau Theater, the Göttinger Symphoniker, the Düsseldorfer Symphoniker, the Gdansk Akademy Orchestra, just to name a few.

As an orchestral musician, Vikentios has performed with orchestras such as the Saarländisches Staatstheater Saarbrücken, the Wüttembergisches Staatsorchester Stuttgart, the Staatsoper Hamburg, the Komische Oper Berlin, the Konzerthaus-Orchestra Berlin, the Rundfunk-Sinfonieorchester Berlin, the Deutsches Symphonie-Orchester Berlin, the Gewandhausorchester in Leipzig, and the Berlin Philharmonic among others. Vikentios Gionanidis is very passionate about chamber music. He has performed with many prestigious groups, such as the Ensemble Modern (which specialises in contemporary music), the Stockholm Chamber Brass and many more.

Since 2014 Vikentios Gionanidis has been teaching orchestral and solo literature at the Hochschule für Musik, Theater und Medien, Hannover, assisting his teacher Prof. Jens Björn-Larsen. Apart from that, he has given masterclasses in many countries, including Greece, Germany, Sweden and the USA.

Apart of his work as a tuba player, Vikentios is also an active arranger of music for brass. His arrangements have been performed in Germany, Greece, Hungary, Austria, United Kingdom, Japan and USA.

Since the season 2013/2014 Vikentios has had the position of Principal Tuba in the orchestra of the Deutsche Oper in Berlin. He uses a Denis Wick Heritage 2.5CC Tuba mouthpiece with his B&S F tuba.
https://m.facebook.com/vikentiostuba/
https://www.instagram.com/vikentios.tuba/