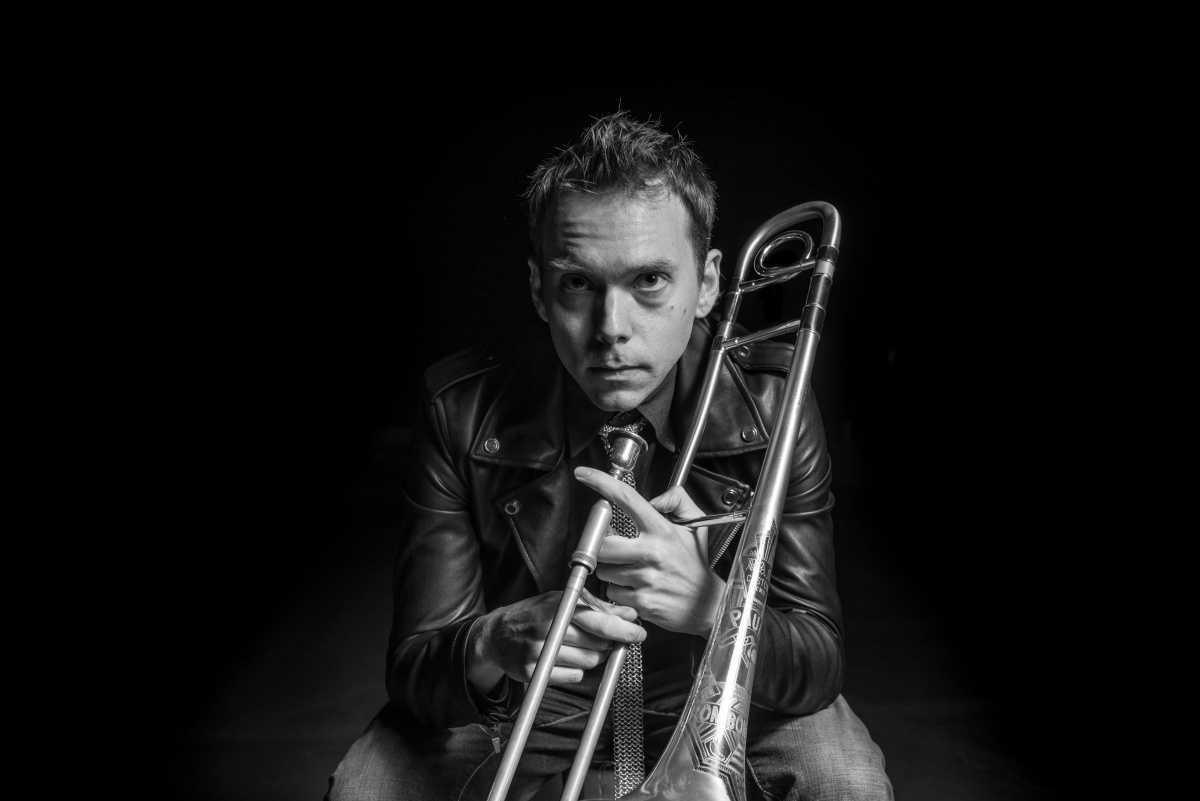 Paul Nowell, also known as "Paul The Trombonist," is a Los Angeles based music producer, songwriter, DJ/performer/educator/film maker and acclaimed trombonist. He has performed privately in front of celebrities including: Leonardo DiCaprio, Martin Scorsese, Sean Penn, Charlize Theron, Robert Pattinson, Zac Efron, Bill Maher and Ryan Seacrest to name a few. His videos of originally produced content have received tens of millions of views.
His original content has been shared and featured by some of the worlds most influential media sources and people. Featured on ABC, FOX, Buzzfeed, Seacrest, Tosh.0, Mashable, Yahoo, MSN and many more.
As a teenager, while playing with his own group at a jazz club in Cleveland, Paul was approached by Duke Ellington's nephew, Ron Ellington Shy of the Drifters and Coasters fame. Immediately after, Nowell began working with Ellington Shy on his musical arrangements. Also as a teenager Paul played in jazz legend Chico Hamilton's band for the Tri-C Jazz Festival. He was a member of the Glenn Miller Orchestra and toured the world with them. Afterwards he played trombone for Bon Jovi keyboardist David Bryan on his Tony award winning (2010 Best Musical) "Memphis." 10 time Grammy winning trumpeter Arturo Sandoval recognized the talent of Paul and together they created a series of online videos that instantly become a hit all around the world by millions of people.
Legendary comedian Sinbad often has invited Paul to perform with him on stage where together they fuse music and comedy in a truly original way. He has also served as trombonist in the queen of soul, Arethra Franklin's band and performed together with Family Guy creator Seth MacFarlane, Frankie Valli and also in Noel Gallagher of Oasis's band.
Nowell graduated from Berklee College of Music on scholarship and has studied with some of the finest trombonists alive such as legendary Phil Wilson. Phil was so impressed with Paul and what he was doing with his career that five years after Paul graduated, Phil flew to Los Angeles to film a video series with him. Paul say's to this day that was the biggest honor of his life. The Phil Wilson/Paul The Trombonist video series was a huge success and sparked an idea with Paul to do similar videos with other living legends. This led to the creation of the internet show "Bone Masters" where Paul interviews living trombone legends and conducts master classes with them. To this day it is the largest educational video library about the trombone in existence.
His debut album, Journey to the World has received critical acclaim for its originality of fusing acoustic trombone with the electronic world. In its first week, it charted on Amazon's best seller list at #26 for jazz sales and #34 in the electronic music category.
Paul's live show is an extension of what is heard on Journey to the World, incorporating trombone and technology in a way never heard before. From Jazz/Pop/Hip-Hop and Dance music, Paul uses looping technology, keyboards, and trombone improvisation that will take you to another world.
Paul is a member of The Recording Academy where each year he is a voting member for the Annual Grammy Awards.
Paul is also the creator and founder of the wildly successful online program Passion Builders Online in which he coaches other creative entrepreneurs on how to turn their passions into a profitable online business.
Find out more about Paul the Trombonist here: https://www.paulthetrombonist.com/