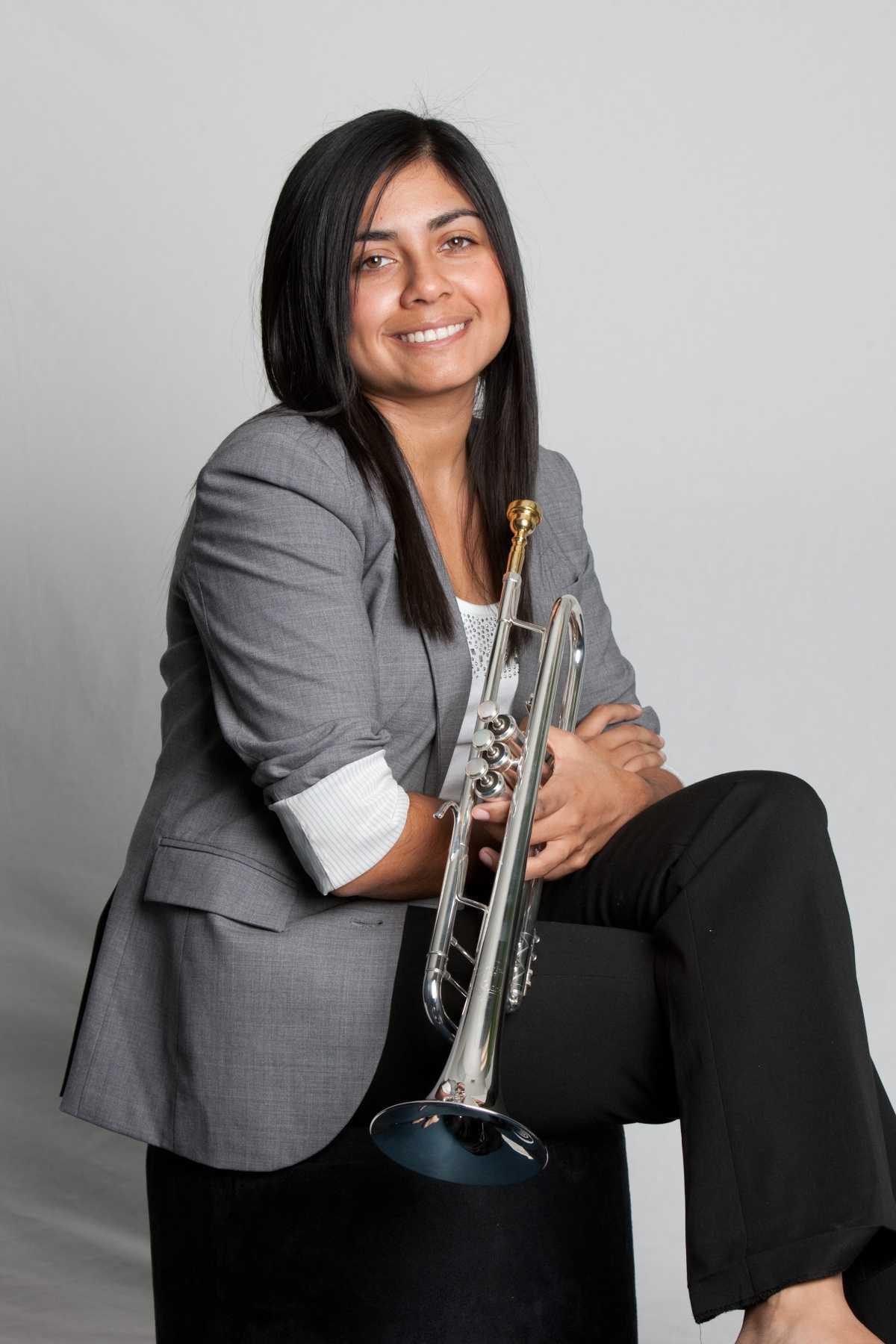 Estela Aragon and I am the CEO/Founder of MusicFit Academy and Trumpet Headquarters, as well as a professional trumpet player in Austin, TX. As a young musician, I frequently earned high marks on solo performances, won auditions and was the recipient of numerous awards. When I was 11 years old I decided to pursue music as a career...but little did I know exactly how.
Fast-forward 8 years and I'm going to college for a trumpet performance degree. Actively working in the Tampa Bay area in Florida allowed me to perform with a variety of wind ensembles, jazz bands and chamber groups, as well as playing for church engagements and as a soloist. My favorite adventure was playing Principal trumpet for The Tampa Bay Symphony for four seasons and in 2010, I had the pleasure to share the stage with the pop vocal group Rockapella. I'm well-versed in Bb, C and Piccolo trumpet in a variety of styles and settings. Some of my performance locations include Italy, Peru, Montreal, England, Myrtle Beach, Columbia, Charleston, Williamsburg and more. Performing has always and still is a passion and important factor in my career, but education didn't fall behind.
When it comes to teaching the trumpet, my students experience dynamic lessons and always walk out inspired. While living in Florida I was a brass coach with focus on trumpet at Don Banks Music and had a small studio while completing my undergraduate degree. Once I moved to Columbia, SC for my Masters degree I really started to spend time studying trumpet pedagogy, and coming up with innovative ways to teach trumpet and music in general. These new ways of teaching music allowed me to take home 1st place at the Savvy Arts Venture Competition in 2014, a retreat for artists with out-of-the-box ideas. After winning that it wasn't long before I started my own studio and it was the best decision I ever made. Today I am a successful full time private trumpet instructor and I love my job. Members of my studio quickly advance in chair placements at their schools, win auditions into county/state honor bands and are accepted into college music programs. My students occupy 1st chairs in their local youth symphonies, compete in concerto competitions and excel in summer programs, not to mention they somehow manage to be valedictorians! As of today, I have taught over 4,000 lessons and counting. While I'm not at home teaching, you can find me doing master class residencies at schools, and being interviewed on music and entrepreneurship podcasts such as "MusicPreneruship" and "Secrets of the Musical Mind". In 2018 I also founded the website Trumpet Headquarters to aid young trumpet players with everything they might need. Although I specialize in pre-collegiate trumpet pedagogy, there are still many adults in the studio who have decided to pick up the trumpet for the first time or after many years. Come join the studio and start your trumpetfit journey! Click here to learn more about what it means to be "MusicFit" and check out what students, directors and parents are saying about my teaching right here.
I spend most of my free time practicing, redefining music learning, playing with my dog, exploring the city and playing video games. Yes...I am a normal human and do enjoy non-trumpet hobbies :D Now what are you waiting for?! Get on board and let's get you TrumpetFit!
---
Estela Aragon received her B.M from the University of Tampa and M.M in Trumpet Performance from The University of South Carolina School of Music. She plans on pursuing a D.M.A in Music & Human Learning in 2019. Her former teachers include Aric Brian (professor of trumpet at the University of Tampa and active freelance musician), James Ackley (former Principal of the Bogota Philharmonic Orchestra and internationally acclaimed solo artist) and world renowned trumpeter Allen Vizutti. Estela is a Denis Wick Artist.