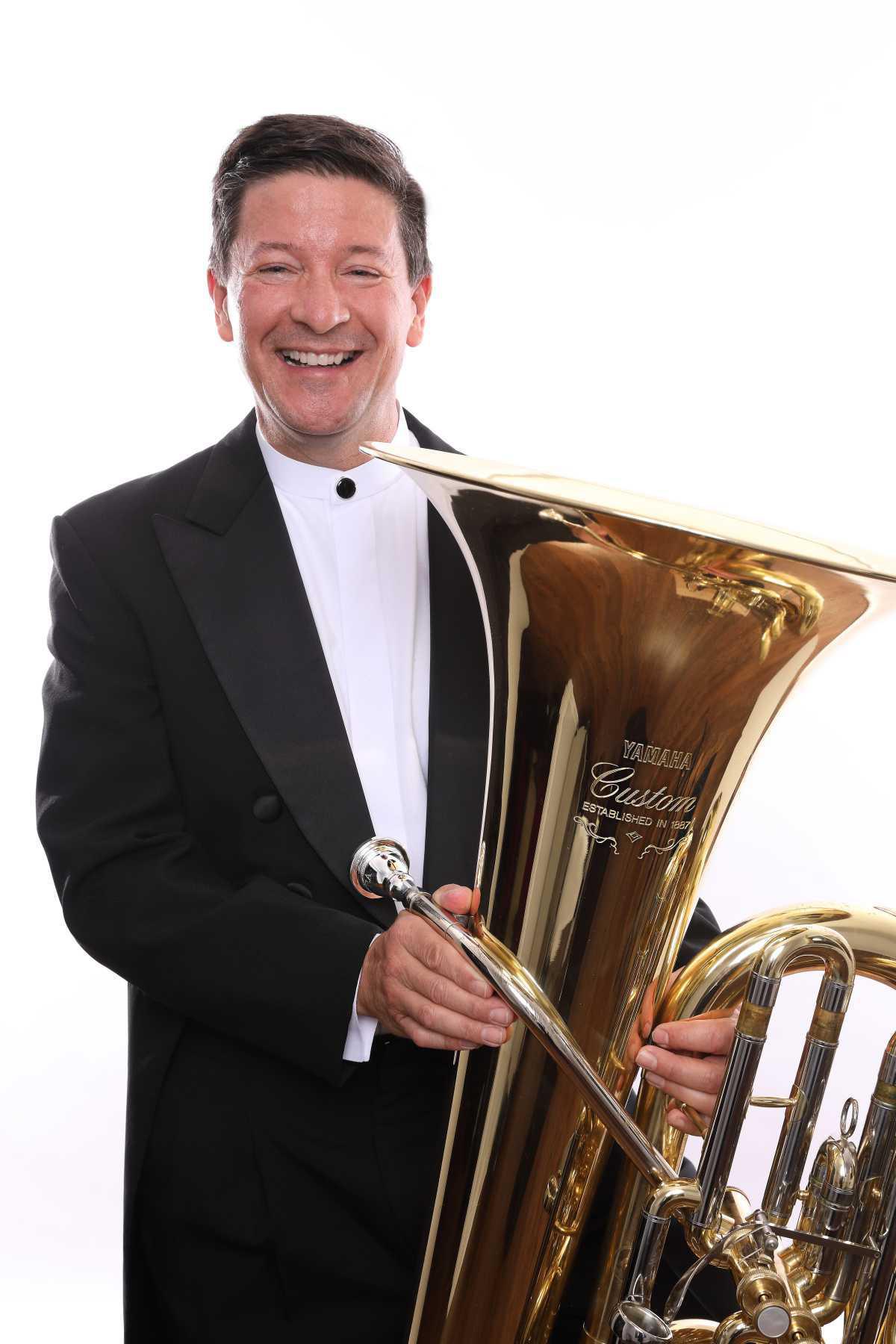 Dr. Thomas Bough joined the faculty of Northern Illinois University in the fall of 2005 as the Director of Athletic Bands. He also conducts the Wind Symphony and teaches graduate conducting and instrumental arranging. Bough holds MM and DMA degrees in Tuba Performance from Arizona State University, where he was a student of Sam Pilafian and Dan Perantoni. He holds the degree Bachelor of Science in Music Education from Missouri State University, where he was active in both vocal and instrumental music. From 1999 - 2005 Bough served as the Assistant Director of Bands and Professor of Tuba and Euphonium at Southern Illinois University in Carbondale, Illinois, and from 1992-1999 as the Band Director at Westwood High School in Mesa, Arizona. In the summer of 2018, he served as a trial judge with DCI as a music analysis and brass adjudicator. Since 2017, he has served as the founding conductor and music director of the Fox Valley Brass Band in Aurora, Illinois.
Dr. Bough's diverse performance background includes wind bands, brass bands, orchestras, chamber music, jazz bands, Dixieland, the Walt Disney World All American College Band and the Phantom Regiment Drum and Bugle Corps. He is a Yamaha sponsored artist, and performs on the Yamaha 822 CC tuba and Yamaha 822 F tuba. In this capacity, he served as a brass consultant and guest instructor with the Cavaliers Drum and Bugle Corps for six years. He was also an instructor with the Phantom Regiment Alumni Corps in 2016. Bough has contributed nearly twenty articles and hundreds of new music reviews to the Instrumentalist magazine, School Band and Orchestra magazine, and DCI Today, as well as articles to five volumes of the Teaching Music Through Performance series as well as Teaching Music Through Performance in Jazz. In 2019, Bough was invited to join the Denis Wick Ambassador group.
Dr. Bough is an active conductor, arranger, composer, clinician, and adjudicator for concert band, marching band, and brass band, with dozens of appearances per year to his credit across the United States. His music is published by Alfred Publications, Cimarron Music and GPG Publications. He has served as a frequent masterclass clinician and/or conductor for the Music For All Summer Symposium and the Music For All National Concert Band Festival for over fifteen years. He has presented masterclasses at the Eastman School of Music, the Crane School of Music, Arizona State University, the University of Michigan, the University of Toledo, and UNC-Greensboro, among many others. Bough has presented three times at the Midwest Clinic and twice at the U.S. Army Band Tuba-Euphonium Conference, as well as the International Society for Music Education Conference in Beijing, China, four NAFME multi-state regional conventions, the International Horn Society Conference and the International Women's Brass Conference. In addition, he has presented at Music Educators Association State Conventions in Illinois, Arizona, Texas, Iowa, Tennessee, Alaska, Missouri, Kentucky, Ohio, Colorado, Nebraska, Arkansas, North Carolina, Indiana, New Jersey, New Mexico, South Carolina, Alabama and the Texas Bandmasters Association.
In May of 2014, his first compact disc was released, entitled, Concertos for Brass: The Music of Thomas Bough. This disc features three original concerti for solo brass instruments and wind band, as well as a transcription of the Concerto in Eb by Neruda. It is available on the Summit Records label at www.summitrecords.com. Since then, recent commissions have included "Musings on Mahler" for Solo Trumpet and Band, "Legacy of Luther" from Concordia University in Chicago, "Air Mobility Fanfare" from the U.S. Air Force Band at Scott Air Force Base, "Poorest of the Poor: Music for Mother Teresa", from the University of San Diego, "Fortress of Peace" from the Southwest Community Concert Band, "Leviathan" from Hubble Middle School, and "Burn" for Alto Saxophone and Band, commissioned by Dr. Greg Dewhirst from Texas Wesleyan University.
Learn more about his work at www.TomBough.com.