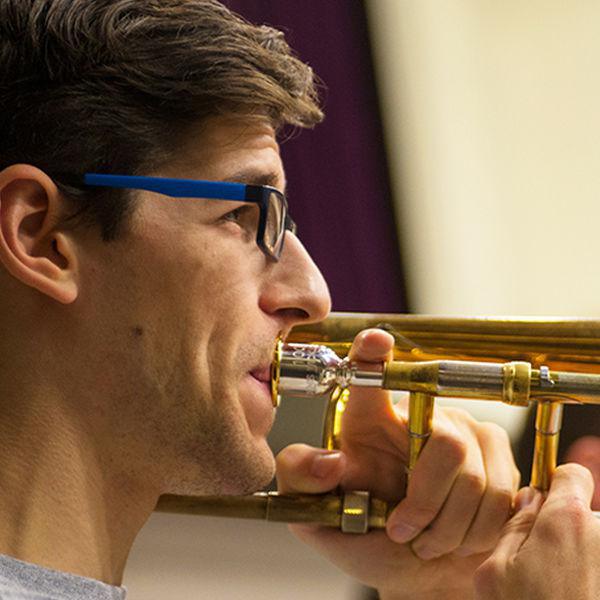 Christopher is a trombonist, singer, and multi-instrumentalist based outside of NYC, but more accurately based on the internet. He has been playing piano since he was 6 years old, trombone since he was 10, and he has been composing/arranging since he was 12.
Christopher has a Bachelor of Music for classical trombone performance from the SUNY Purchase Conservatory of Music in New York. While at the conservatory he studied with critically acclaimed trombonists Weston Sprott (Metropolitan Opera), Denson Paul-Pollard (Metropolitan Opera), John Fedchock (Grammy Nominated Jazz Trombonist), and the absolutely incomparable Timothy Albright.
Christopher is best known for his all-trombone arrangements of popular songs. His YouTube Channel has been gaining popularity since the spring of 2014 when a cover of Pharrell Williams' "Happy" where Christopher uses a looping station to compose the song on the spot went viral. His videos have amassed over 24 million views and a following of over 140,000 subscribers. In April of 2014, Christopher independently released his first cover album, Breakthrough, which was followed by his Christmas album, Smiling's My Favorite. More recently, Christopher released an original pop album called Half Man, Half Machine which mixes acoustic sounds with electronic instruments.
Since graduating from the Purchase Conservatory, Christopher enjoys a busy schedule of performances, clinics, and masterclasses. In addition to producing a new video every Saturday for his YouTube Channel, he often performs at festivals such as the American Trombone Workshop, Midwest Clinic, Texas Bandmasters Association, Con Brio Festivals, Conn-Selmer Institute, Western International Band Clinic, and the International Trombone Festival.
Find out more about the mouthieces and mutes Chris plays here.