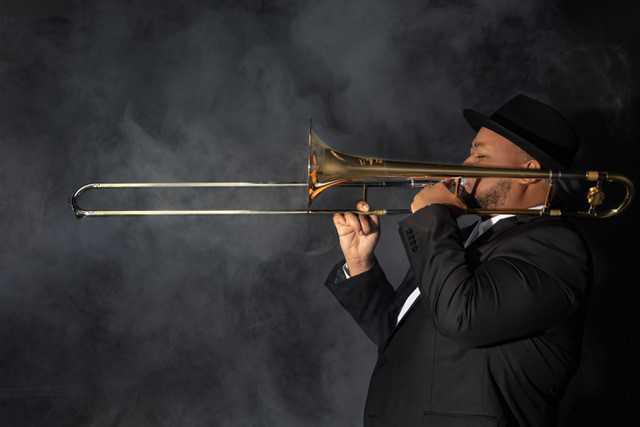 Brass specialist Chris Johnson was born and raised in Inglewood, California. It was in Inglewood where Chris fell in love with the trombone after hearing his middle school music teacher playing one day after school. It was one of the most beautiful sounds he had ever heard. He continued playing the trombone and studying music throughout high school, winning several awards on the way, including a full tuition music scholarship to the University of Arkansas Pine Bluff. While attending UAPB, Chris participated in as many musical ensembles that time permitted. He studied with UAPB's renowned music faculty, cultivating a broader knowledge of music. He also got a chance to study and spend time with the legendary jazz trumpeter Clark Terry, which inspired him to continue to grow as musician. He knew that continuing studies in music was an absolute necessity.
Chris continued his musical studies at Northern Illinois University, where he studied with world-class jazz educator Ronald Carter and earned a Master of Music in Jazz Studies. While attending NIU, he also studied with Tom Garling and briefly with Wycliffe Gordon. Chris played in the NIU Jazz Ensemble, touring with legendary jazz artists, and directed the NIU All University Jazz Ensemble.
In 2013, Chris moved back home to Los Angeles and quickly became a highly sought after professional musician on the scene. He began working as a freelance studio musician and horn arranger. Chris can be seen and heard regularly on TV commercials and film as well as performing, recording and touring with some of the most iconic artists in the music industry. Some of these artists include Beyoncé, Jay Z, Stevie Wonder, Earth Wind & Fire, Raphael Saadiq, Ed Sheeran, Dave Chapelle, Snoop Dogg, Ice Cube, Jamie Foxx, Mary Mary, Ledisi, Cardi B, Aloe Blacc, The Brandon Brown Collective, Lucky Daye, H.E.R., Jennifer Hudson, Solange Knowles and Macy Gray, to name a few.
Chris teaches private lessons, gives clinics and master classes for students of all ages (virtually and in person). He also leads his own group, The Black Fist Band, the group performs regularly at clubs, festivals and private events across the country.