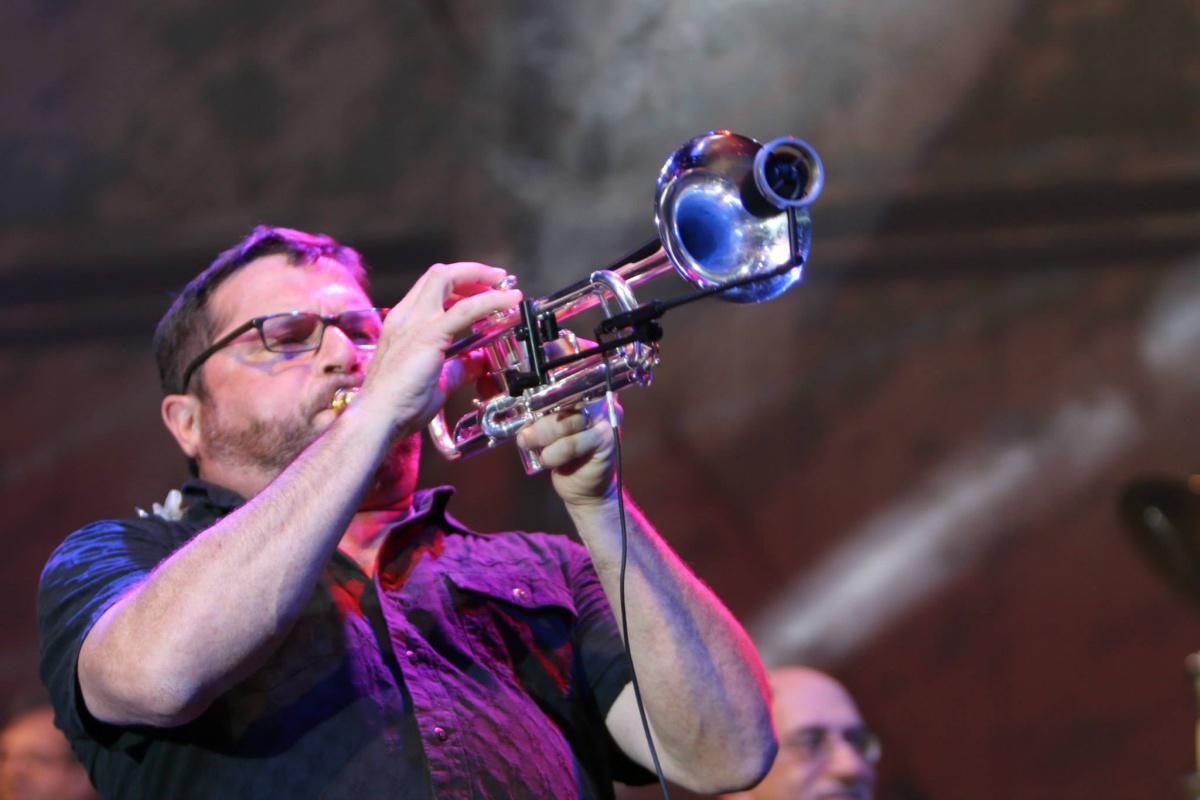 What led to your 9 year stint with the Air Force Band?
Early in Denis Wick artist Kirk Garrison's career, he thought the most logical career path would be a future in music education. Though, as he continued his music education studies at Mankato College (now Minesota State University Mankato), Kirk discovered his true passion was playing trumpet. As his time at Mankato was drawing to a close, he stuck up a conversation with an Air Force recruiter who suggested he try out for the Air Force band.
"There were not any openings at my first audition so I decided to join the Air Force in another career field in hopes of auditioning again after a couple years. During basic training I auditioned again. Captain Alan Bonner was the commander at Lackland Air Force Base that heard me and I was accepted. Later in my career, Colonel Alan Bonner was my commander at Offutt Air Force Base in Omaha NE. We were deployed to the Middle East during Operation Desert Shield/Storm together in 1990-91. In the early 1990's there were deep cuts being made in the military. I was hoping for an opportunity to audition for the USAF Band in Washington D.C. With the cuts, especially in the bands, I was offered an incentive to separate from the military in 1992."
Find the rest of Kirk Garrison's bio by visiting his artist page.
What did you learn about the men and women of the USA Air Force/Armed Forces during that time that was impactful to you as a person/musician?
Leadership and discipline were two of the greatest contributions to my musicianship and professional career. One particular senior Non Commissioned Officer, the late Chief Master Sergeant Leigh Steiger was a huge influence. His leadership style was the greatest. He was critical when it was necessary and rewarding when it was deserved. Master Sergeant Craig Jacobs and of course Colonel Bonner (mentioned earlier) also contributed greatly to my success while in the military and after I separated.
How have you been able to support the men and women of the US Armed Forces in your current job with the Lt. Dan Band?
I didn't realize how much I missed my military brothers and sisters until I started performing with Gary Sinise and the Lt. Dan Band in 1995. When we get to visit with active duty military members, veterans and their families at our performances, there is always a special bond established when they find out that I am a veteran. Since joining the band, I have been to many more bases in the US and overseas than when I was active duty. The Gary Sinise Foundation supports our military (active duty and veterans), and our first responders with several programs that include building homes for our severely wounded veterans, playing concerts, visiting the wounded, hosting events for families, supporting the children of the fallen to name a few. Many deep and lasting friendships have started here and will continue for the rest of my life. You can find out more about the Gary Sinise Foundation at garysinisefoundation.org.
How can musicians help serve those who have returned from war or service?
Not only musicians, but our general public can do a lot to help our veterans. Veterans make excellent employees. Hire one. Thank one. There is a shortage of buglers needed for military funerals. Contact buglesacrossamerica.org. Get involved in the Disabled American Veterans www.dav.org. A quick search on the internet and you can find dozens of organizations where you can help.
This may be a sensitive subject, but it needs to be addressed. This subject is one that our son, Alexander Garrison, a Staff Sergeant in the USAF is very passionate about. Many of our veterans return to civilian life with both visible and non visible injuries. Post Traumatic Stress Disorder (PTSD) is more common than we realize. Military suicides are alarmingly high. In 2020 the active duty suicide rate was 25.9 per 100,000. In 2018, the rate amongst veterans make up 14 percent of all suicides although they are only make up 7.9 percent of the adult population in the US. Help is available through the National Suicide Prevention Hotline 800-273-8255. If you are a veteran in crisis or are concerned about one, you can contact the Lone Survivor Foundation Veterans Crisis Line 800-273-8255, or chat with someone online at www.veteranscrisisline.net.
Kirk Garrison is an active freelance musician/arranger in the Chicago area. He plays trumpet with Gary Sinise and the Lt. Dan Band and is an adjunct faculty member at Elmhurst and Concordia University.



FIND
DENIS WICK PRODUCTS
Want to know more details about what Denis Wick product is right for you? Our catalog will provide you detailed information and advice on every Denis Wick mouthpiece, mute, and accessory.
LOCATE
DENIS WICK DEALERS
Find a dealer that stocks Denis Wick product in our list of Spotlight Dealers.
EDUCATE
SUPPORT & INSPIRATION
Educaotrs! Find a dedicated collection of articles, videos, and classroom activities in our newest section, Education Resources.
LISTEN
DENIS WICK RADIO
Sample some sounds of Denis Wick Cornet Mouthpieces by checking out these artists on Denis Wick Radio
INTRODUCING
DENIS WICK ARTISTS
Get to know our Denis Wick artist group and the music they are creating by visiting the Denis Wick Artist pages.
WATCH
DENIS WICK VIDEO CLINICS
Imrpove a new or old skill and visit our growing library of Denis Wick artist clinics.
DISCUSS
DENIS WICK PODCAST
Join the discussion on Denis Wick's Podcast, This Is You.