My first contact with Malcolm Arnold was in 1947 and was a memorable one. Although I had played with several amateur orchestras in my hometown, Luton, it was at the age of 16 that I saw and heard a professional orchestra for the first time. It was the London Philharmonic Orchestra, in the nearest local approximation to a concert hall, the Vauxhall Motors works canteen.
To a young, inexperienced musician, hearing and seeing a real orchestra of this quality was, to say the least, overwhelming and a contrast to the local amateur players with whom I had shared my musical experiences. The brass playing was awe-inspiring in the Tchaikovsky Pathétique Symphony with Malcolm Arnold playing first trumpet, leading the brass with great authority.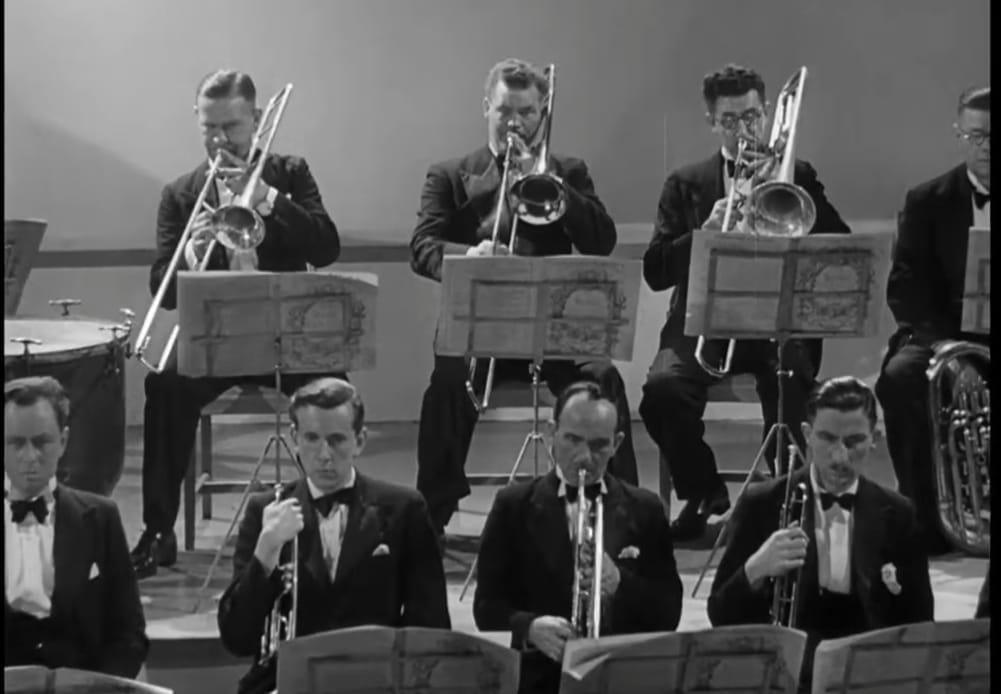 The concert had begun with one of Arnold's own pieces, the overture Beckus the Dandipratt. The first trumpet part was, naturally, very important, and it seemed to me that the first trumpet was really leading the orchestra. Malcolm was a brilliant trumpet player, playing with great verve and style. He had studied with the great Ernest Hall at the RCM and had joined the LPO at the age of nineteen as second trumpet, moving up to first a couple of years later. His dazzling and assertive playing had a profound influence on me, and I resolved that I wanted to become a trombone player in an orchestra and play with same elan as Malcolm Arnold.
I joined the London Symphony Orchestra in 1957, after successive positions in Bournemouth Municipal Orchestra and City of Birmingham Symphony Orchestra. The LSO was never salaried; more a regular source of freelance work. Most of us added to our LSO work with individual freelance activity. It was on these many freelance film sessions that I met Malcolm Arnold when he conducted his own music. I remember some of his brilliant scores and the success of films such as Bridge over the River Kwai and the Heroes of Telemark. His melodic gift and wonderful sense of orchestral sound made him a natural choice for film producers seeking a great score for their film. Malcolm was naturally always very efficient and effective as a conductor. As an ex-player he knew exactly what the players needed in terms of direction, and he was able to make best use of the limited session time. I remember that he always booked his former RCM professor, Ernest Hall, as third trumpet. He obviously had a huge amount of respect for his old teacher, who was the doyen of the trumpet world, and the teacher of a whole generation of great players.
It was always wonderful to play Malcolm's trombone parts. I enjoyed playing his rollicking trombone solo in Tam o'Shanter, which I remember performing in the LSO under Terence Lovett on one occasion. I also remember Malcolm conducting the LSO from time to time, including a recording of Elgar's Pomp and Circumstance Marches at Abbey Road Studios. His expert brass writing shines in the famous Brass Quintet of 1961, which has become one of the most played works in the brass quintet repertoire. I loved playing this piece with its virtuosic, idiomatic brass writing, its brooding trombone solo in the dark Chaconne second movement and its sunny and vivacious last movement. Brass players are fortunate to have this piece in their repertoire written by a composer who really understood their instruments!
Malcolm Arnold was an outstanding player, conductor and composer and influenced me greatly in the early part of my career. His music was always a pleasure to play. I shall be celebrating my 90th birthday soon, and I would like to say a heartfelt Happy Birthday to Malcolm Arnold on what would have been his 100th birthday!