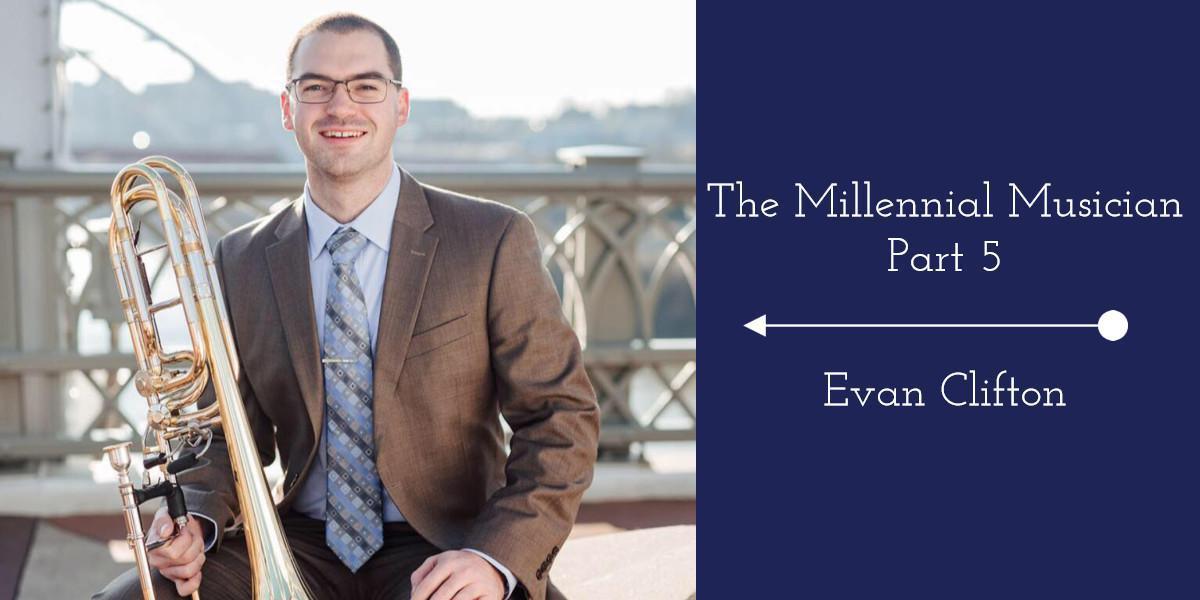 How old are you?
I am 25 years old.
What job prospects did you have/perceive entering college?
Going into college I was dead set on winning an position with a full time symphony orchestra. Both of my parents are brass players and former public school band directors so I grew up listening to recordings of the Canadian Brass, Philip Jones Brass, Chicago Symphony, New York Philharmonic, etc... so that was what I decided on very early, probably as a sophomore in high school. Once I started school at Western Michigan University, I very much followed that path; took my first professional audition in my 2nd year and won my first orchestra job at the beginning of my 3rd year and by the end of that school year I was subbing with most of the orchestras in Michigan. I knew about the other major areas of study at WMU (Music Education and Music Therapy) but neither of them ever seriously caught my attention. Beyond those traditional routes into the music business, I really had very little idea of what else was out there.
What job prospects do you currently see?
Going through music school and working in the music business in many areas has not only shown me how vast the possibilities are, but also what I'm interested in. When I was in school, I worked as a stage manager in the school of music which gave me some incredible experiences working for major clients like the Gilmore International Keyboard Festival (some of the top pianists in the world!), a live taping of NPR's From The Top, and countless world renowned chamber ensembles and soloists. Having this "back of the house" experience gave me serious perspective when I'm on the other side as a performer and I also learned that I really enjoy that kind of work! I've also done some arts administration work for various organizations and that showed me that while I enjoyed the work, to be blunt, being tied to a desk all day made me miserable. But knowing I didn't enjoy something allowed me to re-direct and find a new path towards a career path that's ideal for me.
How do you feel you are approaching your career in music differently from the generation before you?
Right now, in this social media age that we live in, there truly are no limits as far I can tell. Musicians are no longer entirely dependent on having an ensemble or teaching position to have a significant public presence. From my perspective, the world is totally wide open in terms of career possibilities for musicians and as more professional areas are shifting towards a "gig economy" it is becoming easier and more socially accepted to create your own career rather than following the traditional path of going to school, applying for jobs, and working in that job for x number of years. Now, there's absolutely nothing wrong with that path. Without my teachers and mentors who did exactly that, I wouldn't be in the situation I am today, BUT the pathway is not always that direct. Personally, a full time orchestra job or a college professor position is on my radar as a possibility but in the meantime, I'm building my own career as a freelance musician in many different capacities.
What advice do you have to students interested in a career in the music industry?
I believe the absolute most important part of being successful in the world in any field, but especially music where the career options aren't always crystal clear positions that you apply for, is to just try things without any self-judgement and seeing if you enjoy it. If we enjoy the work we do, we'll be more motivated to advance in whatever professional situation(s) we work in, as opposed to not enjoying the work and just doing what needs to be done in order to make money, pay bills, and then retire. I follow Gary Vaynerchuk's social media and podcast quite a bit (@garyvee on insta/twitter, podcast: The GaryVee Audio Experience) and he fields a lot of questions from younger people who don't necessarily know exactly what they want to do. His response is usually to "taste" as many things as possible and I completely agree. How can we know what we enjoy if we don't know what's out there or what we could create ourselves? Especially in music school this is SUPER important.
Other students ask you to play on their recitals/concerts? Fantastic. Do it. These are your colleagues. Collaborate with as many people as possible. The music business is entirely about relationships. The only reason I subbed with The Cleveland Orchestra a couple times is because I went to a summer festival run by the assistant principal trombonist there and we developed a good relationship over several years.
Composition majors want you to play their pieces? Amazing. Do it. After all, these are the people who will be writing the music of the future. Even better, why not ask them to write you a piece? They can use it for something, you get to play a world premiere and work with a composer on a new piece, and you start building a working relationship (see a pattern?).
A faculty member asks you to help tutor other students in music theory? Awesome. Do it. You might find out that music theory really lights you up and you want to pursue an advanced degree in it and teach at the college level.
There's an opening on the stage crew or in operations at the performance hall on campus? Killer. Apply for it. Every performance on the planet requires people to setup and operate it. It's something that will always be needed as long as live music exists.
The point is, give every opportunity that comes up an honest look, and if you have an idea, pursue it. Every new advancement in society was a "crazy" idea in someone's mind at some point.